Clutch upgrade for 4×4, street or track car clutch industries have the product for your vehicle.  Power Curve Performance has been working on performance machines for many years and we love the customer feedback from the on and off-road feel of these clutches.
4Terrain Clutch Upgrade
4×4 Performance clutch is often associated with a heavy, noisy system that will last a little longer than the standard.  Since coming on board with 4Terrain we have seen some drastic changes to this association.  The 4Terrain clutch is manufactured and designed in conjunction with clutch industries.  Operating from the largest research and development centre in Australia.
For both the 4Terrain and Mantic Clutch upgrade the following applies
Burst Test
Test burst strength of cover with specific test equipment designed to reach 15000RPM and hold speed for the predetermined amount of time.  This process proves strength stability in extreme circumstances critical for SFI accreditation, failure to test could cause death to the user.
Full Cover Assembly Function Test
critical cover assembly specifications testing clamp load, bearing load, stack height, pressure plate lift, wear charicteristics of cover.  The purpose is critical for product development and quality checks in production.
Dynamometer
Hey, these guys have a clutch dyno and it is very cool.  They are also the only Australian clutch company to have a dynamometer for clutches.  How amazing to be able to check the torque capacity and coefficient of friction values all done by checking the electronic output from strain gauge to ascertain torque.
Durability test cover assemblies
Oscillate clutch plate in both drive and over run conditions for up to one million cycles!
Functional Test of Clutch Plates
Check the quality and design specifications through the clutch plate in accordance with its matching cover assembly cushion run-out and release of the clutch plate.
Dynamic Thrust Bearing Fatigue Test
Stroke thrust bearing at operational temperature with specific test equipment built for this purpose.  Tests bearings in real-world environments to determine suitability.
Torque Vs Angularity Test of Clutch Plates
Oscillate clutch plate through drive and overrun.  Electronic graphing of this vital characteristic for comparison.  Assist in clutch plate selection for particular applications.
CAD modelling of all performance clutches
Critical cover assembly specifications.  Clamp load bearing load, stack height, pressure plate lift, wear characteristics of cover.
When you call and ask how many NM the clutch your purchase can withstand you know the 4terrain is the only clutch that has proven its worth on a dyno put to the test time and time again!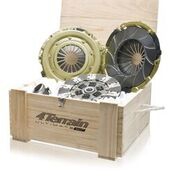 Mantic clutch upgrade
Mantic the street to track series of clutch industry products has multi-levels of applications to suit your need and vehicle.  Stage 1 the ER2 Organic right up to stage 5.  In retrospect, the mantic stage four clutch is used by The Hollywood stunt drivers at Movie World on the Gold Coast.
Chances are you may not require the power and abuse of the sprung centre undampened cerametallic stage 4 but there is something we can provide for you.  Mantic clutches range from single to triple plate.
Multiple discs v Single disc clutches
There are several significant advantages of a smaller diameter, multiple disc clutch over a larger diameter single disc unit.
Multi disc clutch advantages:
Increase the amount of torque able to be transmitted.
Decrease the pedal effort to operate the clutch.
Decrease the weight of the clutch
Decrease the M.O.I. (Moment of Inertia) of the clutch.
The amount of torque that a clutch transmits is critical to the ultimate performance of a vehicle.
Multi disc clutches increase the available torque capacity by 2 for twin disc and 3 for triple disc.
Torque Capacity is affected by 4 factors:
Decreasing the diameter reduces torque capacity.
A smaller diameter clutch has a smaller diaphragm, which usually means a lower clamping force
Adding a second clutch disc doubles the torque capacity.
Increasing the coefficient of friction of the clutch discs increases the torque capacity.
If the multi disc clutch is correctly designed and engineered, the losses from the smaller diameter and lower clamp force are much less than the gain in coefficient of friction and extra disc(s), giving the torque increase.
Examples:
| | | | |
| --- | --- | --- | --- |
| Diameter | Weight | No of Discs | Torque |
| 9.0in/225mm | 33.8lb/15.4kg | 2 | 1010ft lbs/1365Nm |
| 7.25in/185mm | 26.6lb/12.1kg | 3 | 984ft lbs/1330Nm |
| 12.0in/300mm | 46.0lb/21.0kg | 1 | 781ft lbs/973Nm |
Pedal Effort
Smaller diaphragms used in multi disc clutches will usually require less pedal effort to disengage the clutch. This is in direct contrast to a larger single disc clutch which has a larger diaphragm with heavier pedal effort
Decreased Weight
The above examples clearly show the weight relationship between multi disc and single disc clutches.
M.O.I. (Moment of Inertia)
Lower weight means less inertia has to be overcome to spin the clutch. This means less engine power is needed to turn the clutch. The net effect is the vehicle is able to accelerate faster.
Lower weight also means that the clutch discs will not continue to spin on for as long and allow faster shifting. The net result again is faster acceleration and less time when there is no power being transmitted to the wheels.
Clutch industry mantic and 4terrain clutches are walking out the door call our team for a performance clutch like you have never experienced before.
Call Power Curve Performance today for the best price on your 4terrain or Mantic Clutch and installation.